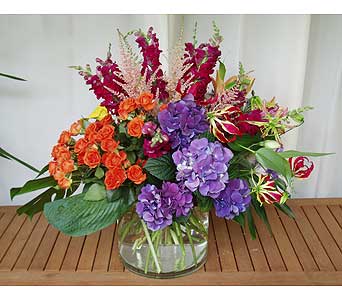 Perennial Gardens believes in a high standard of quality and we interpret nature and flowers into designs that reflect our aesthetic sensibility. Our custom designs reflect a look we think is exciting and current; hopefully this is conveyed through pictures on our website. We use our extensive palette of plants and flowers to express what you wish to communicate, never forcing flowers into a precounted, design by number recipe.
They are chosen from the freshest and finest botanical specimens available.

The garden world is so large and varied, it is impossible to capture all the variations that might be available on any given day. Our designers work within a seasonal palette.
Understanding that certain products considered "off season" may carry a significance between you and your recipient, we are happy to strive to accommodate your request while assuring you of our high standard of quality.